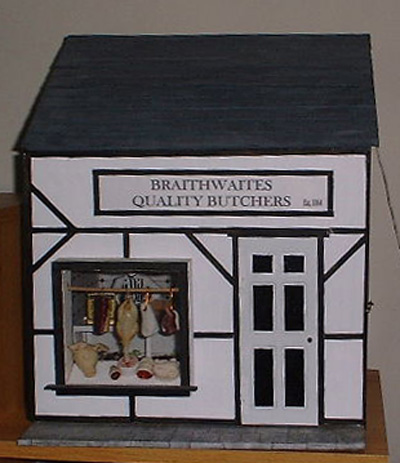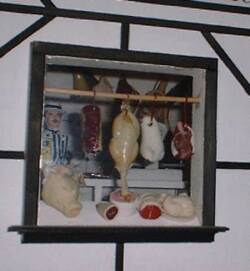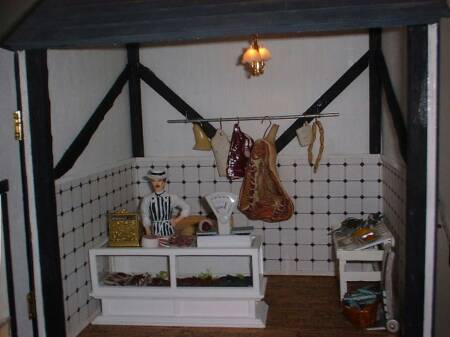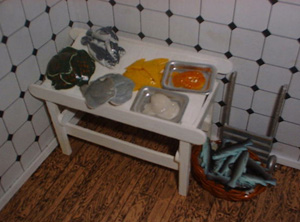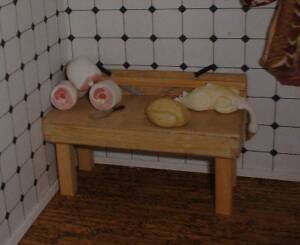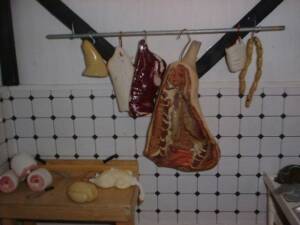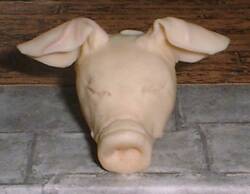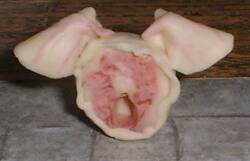 I wasn't going to put this shop on my website, because most of it I bought ready made, but I was asked to do so, so here it is.

It came about because Allan (my late husband) said he wanted to  buy me some gold earrings.  I said that I'd seen a butcher's shop on eBay that I'd rather have, so he bought it for me instead.

When the shop arrived it was ready built and decorated, contained the chopping block, counter, scales, and quite a bit of stock.

Most of what you can see in the shop window was sold with the shop, I just made the chicken at the bottom right, ham bottom centre, and pig's head at the left - closeup photos of that further down the page.

I put in the light fitting - because there is no ceiling, it had to be suspended on a very long chain.

The trolley came with the shop, but I bought all the wet fish off eBay.  The slab was built out of lolly sticks, before I found that I could make things out of real wood.  Still, I don't think it looks too bad, do you?

The chopping block was also purchased with the shop, I don't remember if the tools were included or bought afterwards.  I made the ham, also the goose with its head all a danglin' down, oh.  I tried to make another one, but it didn't turn out as well as this one.  Obviously beginner's luck

The side of beef was purchased separately, again from eBay.  The detail in it is amazing, it must have taken a very long time to make.

And last, but I hope not least, here is the pig's head I made from Fimo.  Fortunately my butcher's wife is also a miniaturist, so he didn't mind me asking to examine the back of a pig's head (I had no idea what to expect), he even brought out a tape measure to measure the ears for me.  I hadn't realised they had such prominent veins in them.

I think you'll agree that this is much more fun than a pair of earrings.  One day I might do some more work on it, but I'm quite content with it for the time being.  Thank you for looking.