I do hope you will enjoy wandering around my site.

Thank you for your interest in my site.

I hope you will take the time to have a look at what I have been making.

Here  you can see some of the miniatures that I made whilst living in Crete.

There are examples of both 1/12th scale and 1/144th scale.

ROSE COTTAGE is a 1/12th scale house

which I was buying in fortnightly parts.

It is produced by De Agostini.  The magazine is very prettily illustrated, which is fortunate because I find it difficult to read the Greek text.

but unfortunately had to leave it in Crete.

BOBBIN LACE MAKING used to be my main hobby, in fact more a way of life.

On these pages I show a piece of lace which I made for

Her Majesty Queen Elizabeth the Queen Mother,

as well as examples of miniature lace which I have made more recently.




THE ANCHOR is a 1/12th scale English public house,

with, of course, a nautical theme.

It contains a bar room;  a "resident tart's" room;

The Mystical Mahlig - Your Future Foretold;

a games room; and a beer garden on the roof.

Featured in the July 2004 issue of The Dolls' House Magazine
















HERMAN THE HERMIT AND HIS HORRIBLE HOVEL

This was my entry in the 2003 Dolls House Emporium Competition.

Featured in the July 2004 issue of The Dolls' House Magazine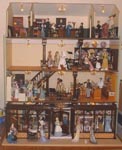 ANDERSON'S EMPORIUM

This was featured in the November 2006 issue of The Dolls' House Magazine,

and has been donated to

St. Michael's Hospice, St. Leonards on Sea, East Sussex.



WEYBOURNE - a 1/12th scale replica, which I built from scratch, of the 1930s house where I was born, set on Coronation Day 1953.

I also replicated all the furniture, and most of the fittings, trying to buy only those made of metal, china or glass. 

Featured in the March issue of The Dolls House Magazine,

this house is going to the Redbridge Museum, Ilford, Essex,

some 2 miles from where the original house is.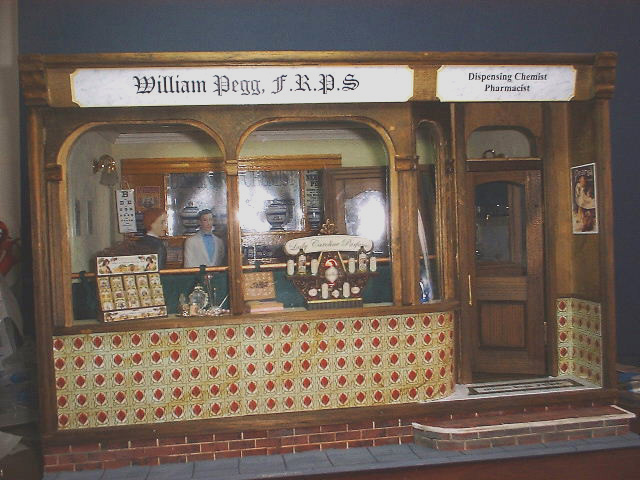 WILLIAM PEGG, F.R.P.S - a very loosely 1920/30s dispensing chemist, set in a Sid Cooke shop.

Just a few photographs to show you how this project progressed.

Featured in the June edition of The Dolls House Magazine.


The shop and some of its contents were bought from eBay. 

I added a wet fish counter, and many pieces of meat, including a pig's head, to make which my local butcher allowed me to examine one in his shop.