Although I have tried different ways of making lace, such as fine crochet, knitted lace and tatting, to me bobbin lacemaking has to be the most satisfying of all.   The pillow, with its array of bobbins and multi-coloured beads, is an art form in itself.

I first started making bobbin lace in the early 1970s, and for nearly 20 years it was my main hobby.  I taught small groups, mainly beginners, and then wrote a correspondence course, Bobbin Lacemaking for Beginners, which ran for several years, with students in many different parts of the world.  In those days, of course, we had to rely on ordinary mail - no e-mails then!

In 1980 I was shown the few remaining examples of Winchelsea Lace that had been preserved in the museum of that tiny Sussex town, and I was fortunate enough to be able to study them in sufficient detail to be able to make accurate copies of the patterns.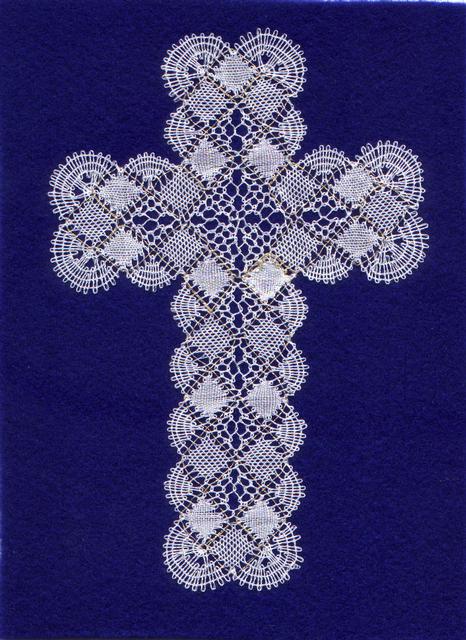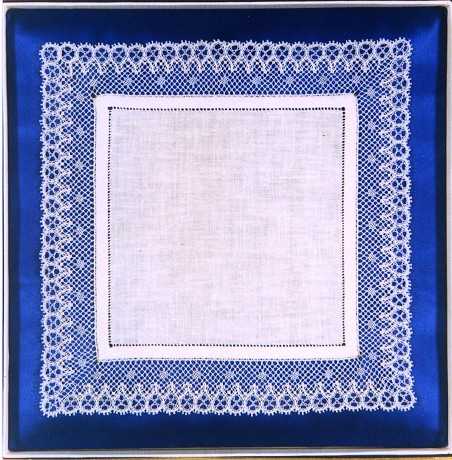 WINCHELSEA is a small town in East Sussex, in southern England.  In the 13th Century there were five main ports on the south coast, guarding the English Channel, which became known as The Cinque Ports, and Winchelsea was one of them.

Her Majesty, Queen Elizabeth the Queen Mother, is Lord Warden of the Cinque Ports, and frequently visited this town.

When I had finished the handkerchief edging in Winchelsea lace, it was suggested that I should write and ask if Her Majesty would accept it as a gift.

I received a letter back from Clarence House stating that she would accept it, and so it was duly sent off to her.  I then made a duplicate copy, which is now in Winchelsea Museum with their other pieces of lace.

For personal reasons I stopped making lace in 1990, and immediately prior to moving to Crete sold my enormous collection of pillows, bobbins, books and other items, many of them antiques.  Some were auctioned at Phillips, whereas others were sold privately.  Many of my books were donated to the local Public Library.

Once I was settled here, and revived my interest in miniatures, of course I wanted to start making lace again, and had to buy new equipment to replace what I had got rid of!

Fortunately, the quality of the lace is not affected by the quality of the equipment used to make it.

The first piece of lace I made, after a break of over 10 years, was a cross in Torchon lace, which I gave as a name day present to Niko, my Greek teacher.

It measures nearly 5-3/4" long by 4" wide.


My Guest Book is at the foot of my

Home Page -

I do hope you will leave a message for me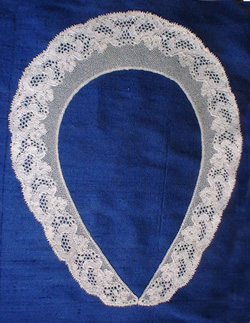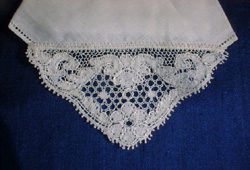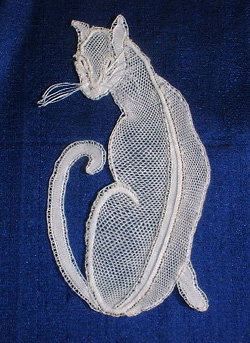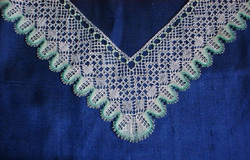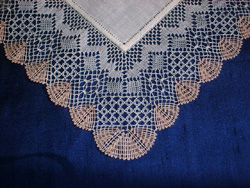 On my return to England I was delighted to find that I'd kept some of my original lace.  The horseshoe shaped collar and handkerchief corner below are worked in Bucks Point, my favourite of all laces.   The collar is  about 9" wide by 11" long.

The cat on the right is my one and only piece of Honiton lace - loved the cat, didn't like the technique.

The two edgings below, about 9" on their outer edges, are worked in Torchon lace. 

For the first one I used three different shades of green thread to work the headside pattern, and did green cucumber footside stitch.

For the second one, I used pink thread for the headside fan weavers, which I think gave a very pretty effect.

Whilst I usually only work in white thread, these were experiments in introducing colour.